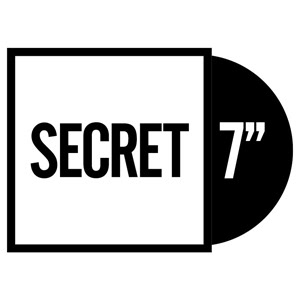 Secret 7"
is an annual event that combines Music & Art for a good cause.
"We take 7 tracks from 7 of the best-known musicians around and press each one 100 times to 7" vinyl. We then invite creatives from around the world to interpret the tracks in their own style for every 7". 700 sleeves are exhibited and then sold for £50 apiece. You don't know who created the sleeve, or even which song it's for, until you have parted with your cash - the secret lies within."
(Text by Secret 7")
This year the charity is for Nordoff Robbins, who are dedicated to transforming lives of vulnerable children and adults through music therapy. 
"
Nordoff Robbins
work with people with a range of challenges such as autism, dementia, depression and physical and learning disabilities. The therapy they provide helps many to communicate where they have struggled to do so previously. The results can have a profound impact on individuals, their families and all those around them. They carry out their work in their own music therapy centres, in schools, community centres, hospitals and care homes. They also train music therapists through their own Masters degree programme. We are delighted to support Nordoff Robbins in 2015." 
(Text by Secret 7")
- Selected Cover
- Dead Flowers by The Rolling Stones -